Genesee Keg Tree is Lit for the Season!
December 6, 2022
Genesee Keg Tree is Lit for the Season!
---
ROCHESTER, N.Y. – Thousands of people braved the cold and snow to watch the lighting of the Genesee Keg Tree. Crowds gathered at the Genesee Brew House to see the three-story tree twinkle with more than 30,000 lights while enjoying Christmas music, local food trucks and, of course, Genesee beer.
"Our fans showed up in a big way for this year's Keg Tree lighting," said Jaime Polisoto, Genesee brand director. "From our biggest fans to Keg Tree newbies, you could feel the excitement in the crowd. I think every year it gets a little more magical."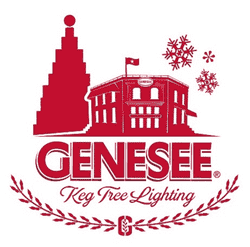 About the Genesee Keg Tree Lighting
This year's tree consists of 532 empty kegs stacked three stories high with lights programmed to holiday songs and a neon rotating Genesee sign on top. Visitors can see the Keg Tree light up the Genesee Brew House Beer Garden every night through the beginning of January.
"Where else can you get Christmas lights, holiday shopping, a delicious meal and beer all in one place?" Polisoto said. "Bring your family, your friends and soak in this great Genesee tradition all month long!"
About the Genesee Brewery
Established in 1878, the Genesee Brewery, New York state's oldest brewery, makes the classic Genesee Heritage line of beers, Genesee Specialty, Brewers Series and Seagram's Escapes. The Genesee Brewery also manufactures beer and other alcoholic and non-alcoholic beverages under contracts on behalf of other companies.
Genesee Heritage: Genesee's Value line of beers includes Genesee Beer, Light, Cream Ale, Black, N.A., the Original Honey Brown Lager, and Ice.
Genesee Specialty: Genesee Specialty is a premium line of beer with character. The lineup includes Spring Bock, Ruby Red Kolsch, Tropical Pineapple Kolsch, Oktoberfest and Cran Orange Kellerbier.
Genesee Brewers Series: Brewers Series is an ultra-premium line of beers brewed with high-end ingredients and handpicked by Genesee's brewing team. The first beer in the series is an Imperial Stout released in fall of 2022.
For more information, visit www.geneseebeer.com
Stay connected with Genesee on Twitter, Instagram and Facebook: @GeneseeBrewery.
Always drink responsibly.